50TH ANNIVERSARY CELEBRATING RHODODENDRONS EVENT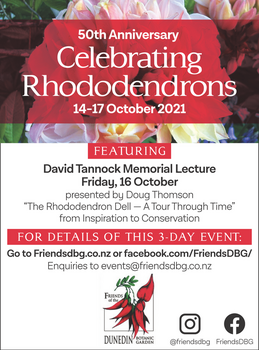 In recognition of 50 years of Rhododendron events in Dunedin, we are hosting three days of events, which kicks off with The Les Cleveland Cocktail Evening on Thursday 14 October. Some of the events over the three days include:
The Les Cleveland Cocktail Evening in the Propagation Unit
This event is kindly sponsored by the Cleveland Charitable Trust Foundation which was established by the late Les Cleveland. Hosted by Mick Reece, enjoy drinks & canapes and a pop-up gin tasting bar from No.8 Distillery sponsored by Woodland Products. During the evening there will be an auction of art and garden-related items and an opportunity to try the cocktails made by No.8 Distillery.
"The Rhododendron Dell – A Tour Through Time" From Inspiration to Conservation
Doug Thomson, Curator of the rhododendron collection at Dunedin Botanic Garden will trace the origins of the Dell and revisit some of the developments as it has grown over the years concluding with its developing role in the conservation of threatened species as part of a national rhododendron conservation framework. A tour of the Rhododendron Dell in the upper garden will follow.
"The Rhododendron Day Plant Sale planned for Sunday 17 October has been cancelled. The Friends of the Dunedin Botanic Garden have advised us that in the interests of public safety and due to the practicalities of running such an event under Covid-19 Alert Level 2 settings, they made the difficult decision to cancel it this year. Understandably everyone involved is disappointed that this year's event won't be taking place but look forward to an even bigger and brighter sale in 2022."
The Friends also wish to acknowledge with thanks the support of the Cleveland Charitable
Trust Foundation which was established by the late Les Cleveland, Woodland Products, and all of the organisations participating in our programme.

Please click here for the full programme and links for all the events. Any questions, please contact us at events@friendsdbg.co.nz